Artificial Intelligence has brought about a massive turn in humankind that cannot be overlooked. We see AI being used in the most important places, including supercomputers. Hence, to fuel our curiosity about AI, what better way than to watch documentaries freshly prepared by the people-in-action. If you're interested in watching some amazing documentaries, you're at the right place.
In the article, we've listed the 11 best documentaries on Artificial Intelligence (AI) that you must watch.
Let's get started.
"Artificial intelligence will reach human levels by around 2029. Follow that out further to, say, 2045, we will have multiplied the intelligence, the human biological machine intelligence of our civilization a billion-fold."

Ray Kurzweil (American inventor and futurist).
What is Artificial Intelligence?
Artificial Intelligence is a human-built replication of intelligence that is programmed into machines. These machines are capable of performing tasks that require human intelligence and keep improving themselves based on the information/results they get.
When thinking of how fast and effective it can help make the industrial areas both on the ground and digital. Artificial Intelligence (AI) has become a valuable asset that enhances human capabilities and makes work more easier and productive.
Best Documentaries on Artificial Intelligence You Should Watch
1. iHuman


Published in: 2019
IMDb Rating: 6.7/10
Duration: 1 h 39 min
Professionals in AI, Jurgen Schmidhuber with Ilya Sutskeve, tell us about machine learning and the different changes that AI brings in and is expected to bring forth in society. They show how artificial intelligence can be developed and help the social and political order.
Moreover, the powerful artificial intelligence can often be staggering but howsoever is shown on the screen with utmost care for the viewers' understanding.
2. The Social Dilemma


Published in: 2020
IMDb Rating: 7.6/10
Duration: 1 hr. 34 min
A very recent documentary discusses the critical point of social media's effect on our society and its popular thinking. Jeff Orlowski, in his documentary, portrays the trend social media can start in one's thinking and how it affects the mental health of the youth.
From AI algorithms to social media platforms, this documentary show us a dangerously new side of technology, all backed up by interviews with former employees of Google, Apple, and Facebook.
3. AlphaGo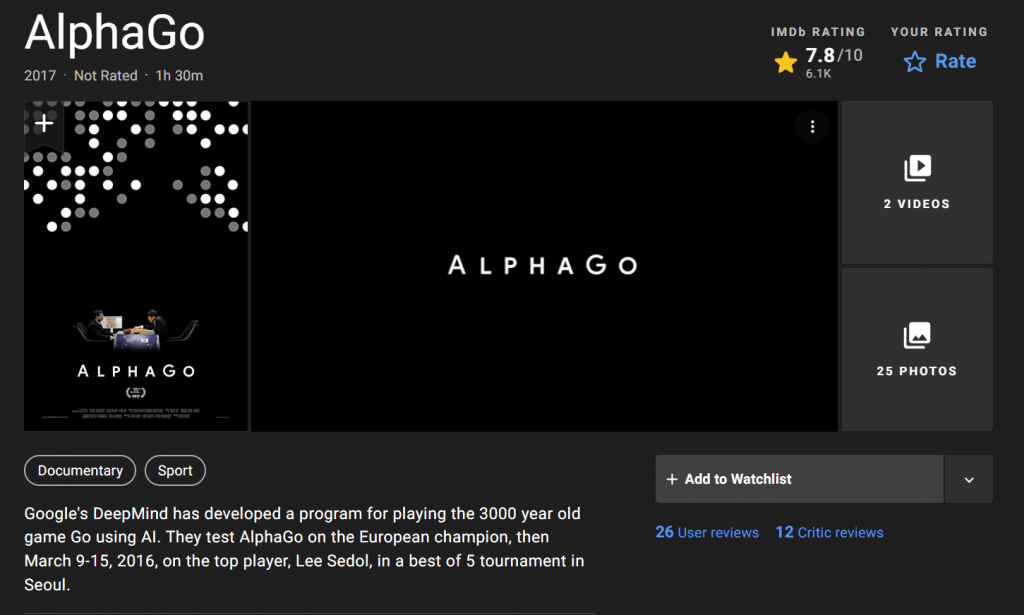 Published in: 2017
IMDb Rating: 7.8/10
Duration: 1hr 30 min
This very intriguing documentary explains weird but logical combat between a thousand-year-old Chinese board game called Go and artificial intelligence. In South Korea, a Go player clashes with AI, contrasting human intelligence and human-built intelligence. It also gives the message and plot of how different the clash between humanity and AI can be from the regular imagination.
4. The Age of Big Data


Published in: 2013
IMDb Rating: 6.8/10
Duration: 54 min (avg. episode)
This documentary showcases the importance of big data and the digital world. It portrays data's help to put together pieces separated by borders. It emphasizes the role of the digital era in promoting the fields of healthcare, among others.
It shows people in different professions using data to analyze and ease their work. Such as the case of a police officer trying to predict a mishap or crime or an astronomer from South Africa with dreams of space.
5. The Age of A.I – How Far is Too Far?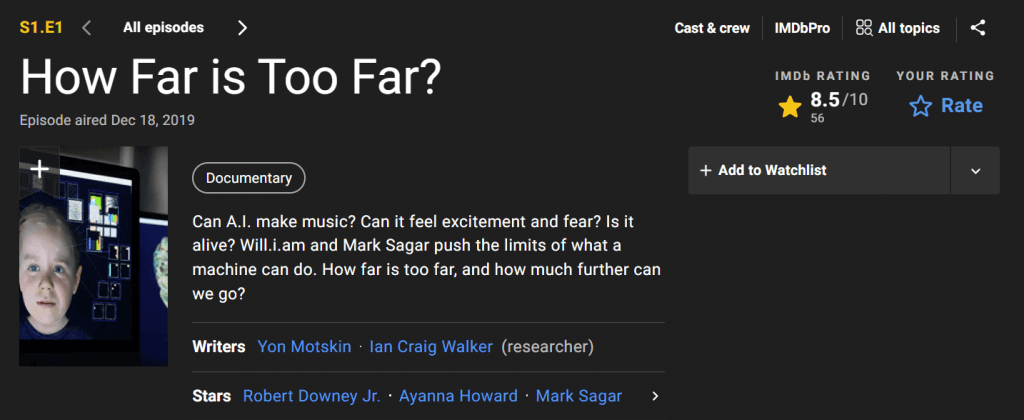 Published in: 2019
IMDb Rating: 7.8/10
Duration: 35 min (avg. episode)
This is a documentary series first aired in December of 2019. In this eight-part documentary, Robert Downey Jr. journeys you through machine learning and artificial intelligence. It shows AI's potential to change the world and revolutionize it with its ever-growing branches and newer and faster algorithms.
6. HI, AI – Love Stories From the Future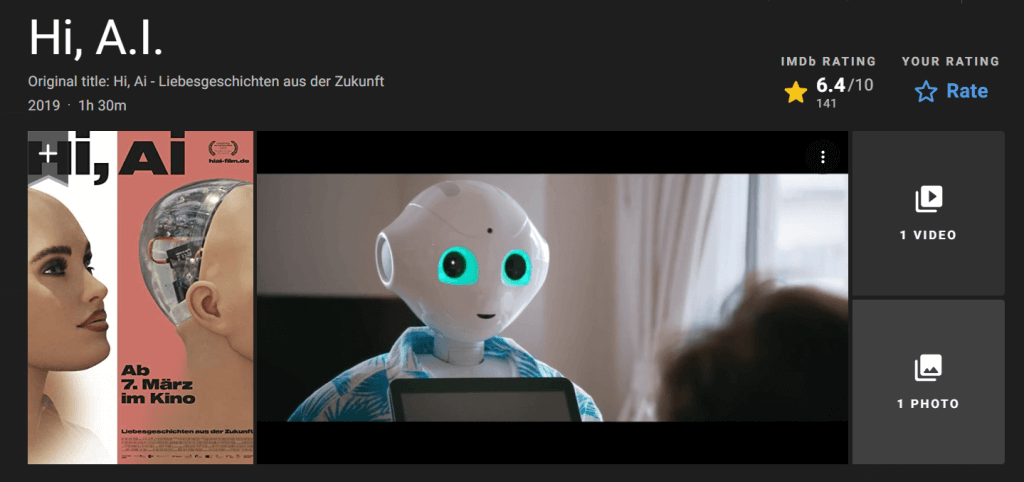 Published in: 2019
IMDb Rating: 6.4/10
Duration: 1h 30 min
It is a beautiful portrayal of the connections humans can have with robots, exploring artificial intelligence from its roots. Willinger directs it; this shows the variations in the interactions humans can have with their counterparts and goes into detail about the developments artificial intelligence goes through. Robotics is also a discussed topic in this documentary.
7. TechnoCalyps


Published in: 2006
IMDb Rating: 7.3/10
Duration: 2h 36 min
This documentary on the development and the ever-changing technology written and directed by Frank Theys is divided into three parts. There are obvious distinctions between artificial intelligence, nanotechnology, and other cyber topics, and it also features in-depth conversations on AI and related topics with some experts.
This Belgian documentary explores transhumanism, an idea of humankind expanding beyond barriers by science and technology, with a natural and understandable tone.
8. Lo and Behold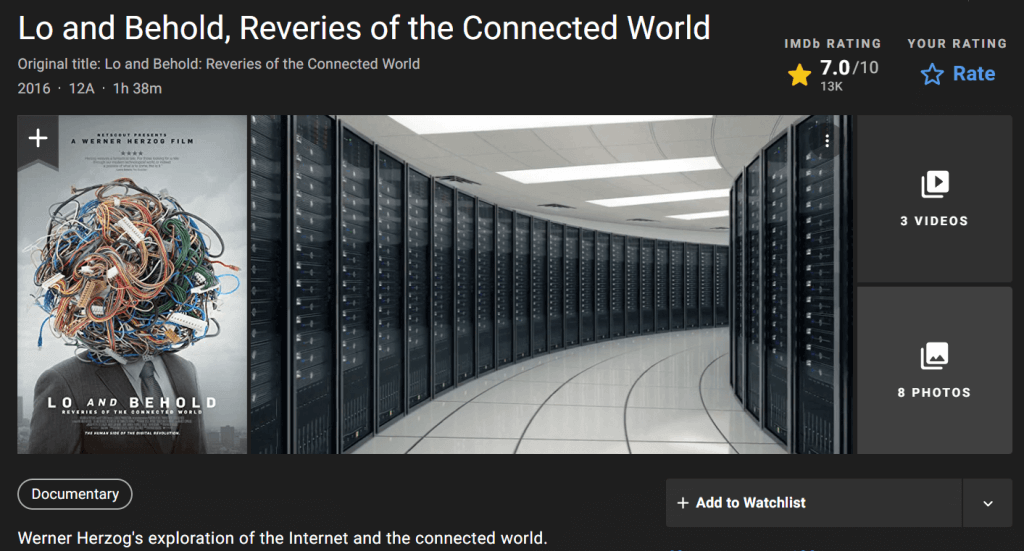 Published in: 2016
IMDb Rating: 7/10
Duration: 1h 38 min
This documentary features interviews with some of the tech giants, such as Elon Musk and Sebastian Thrun. And, with much-awaited explanations and descriptions of the complex and in-depth working of AI and robotics, this show will steal your mind and put your eyes in a new perspective to look at the new digital web that is being spun all around. It is undoubtedly worth watching.
9. Future Intelligence


Published in: 2009
IMDb Rating: 8.86/10
Duration: 44 min
Machine learning and data & analytics? It is the watch for you! This documentary focuses on imparting meaningful knowledge on machine learning and data, all the while also analyzing how, over the years, researchers have and still are trying to make AI faster than human intelligence could have ever reached.
This documentary indeed puts forth the question of whether artificial intelligence, at its best, will still assist us or will take over with its all-dominant skills in intellect and a flow of organized information.
10. The Smartest Machine on Earth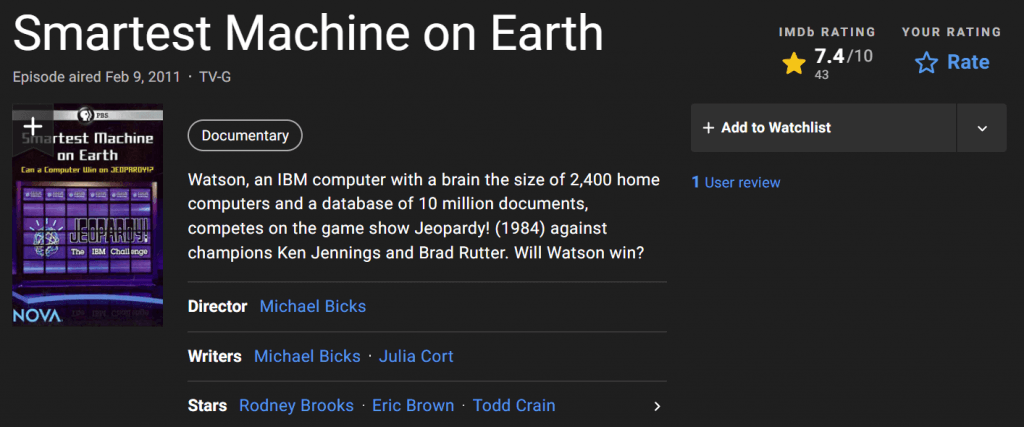 Published in: 2011
IMDb Rating: 7.4/10
Duration: 1 hour
This documentary has Watson, an IBM-developed computer with a library of ten million databases and a brain as big as 2400 personal computers, letting the audience indulge in how artificial intelligence has changed our lives. It is an excellent opportunity to learn more about machine learning from this complex character with mind-boggling access to information.
This new AI documentary will show us the 'artificial' side in contrast to humankind will take you on a rollercoaster ride of information and intelligence.
11. The Rise of AI
Published in: 2018
IMDb Rating: 7.8/10
Duration: 51 min
Journalist Ashlee Vance searches for the origins of technology in Canada. This documentary, available for free on YouTube, gets you the answers to some of the most needed questions on the revolution and changes brought forward by artificial intelligence.
However, what makes it stand out is its very successful attempts at knowing what caused this big bang of AI and how it emerged into something so widely used.
Final Words
These are the 11 best documentaries on Artificial Intelligence (AI) that you need to watch to know more about this technology and how it's changing the future. We hope this article helps you find some amazing documentaries on Artificial Intelligence.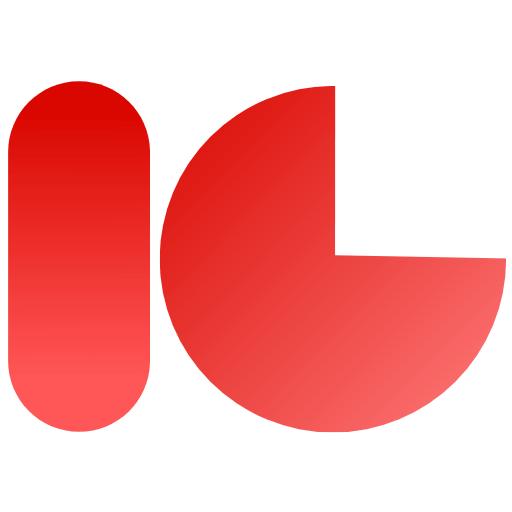 10Pie Editorial Team is a team of knowledgeable writers and editors with experience in the technology field. Learn more about our editorial process to ensure the quality and accuracy of the content published on our website.