Data Specialists are essential to helping businesses in today's cutthroat business environment collect, analyze, and understand massive volumes of data.
And finding the appropriate talent, though, may be difficult.
To help you find the right candidate for data specialist roles, we've created this data specialist job description template which you can copy with little customization.
Let's get started.
Table of Contents
Data specialist job description template
We at [Your Organization Name] seek a competent Data Specialist to join our team as we grow our operations. You will be a key contributor to our ability to make data-driven choices and accomplish our business goals as a data specialist.
Data specialist job brief
As a data specialist, you will gather, analyze, and interpret large amounts of complex data to spot important patterns and insights. You will create data-driven plans with our management team that boost operational effectiveness, stimulate revenue and profit, and enhance efficiency.
Data specialist responsibilities
As a highly motivated and independent data scientist, you will be responsible for supporting us in comprehending and creating predictability around business performance. The following are some of the role's primary duties:
Collaborate closely with analysts and the business community to gather and analyze vast amounts of data from various sources
Use statistical models and algorithms to find patterns and trends in data
Clearly and concisely express findings and suggestions to stakeholders
Maintain and upgrade data management systems to ensure accuracy and reliability
Work with cross-functional teams to build data-driven plans and initiatives
Track key performance indicators (KPIs) to gauge the success of company goals
Develop and maintain ETL routines that feed into important dashboards and produce useful information
Collaborate and support the team's supportive culture while working in an on/offshore paradigm
Enjoy professional growth and development opportunities, flexible work schedules, remote work options, and a competitive compensation and benefits package.
Data specialist requirements
You need to have the following set of requirements and skills to apply for the role:
Preferences will be given to candidates with Bachelor's or Master's degrees in computer science, statistics, mathematics, or related fields. Moreover, you can still apply for the position even if you only have a diploma (PG/UG level) in a tech-related field.
A minimum of three years experience working in a data analysis role or some experience working on independent data analysis projects involving data visualization, data analysis, systems analysis, extracting data from various sources, transforming it into information, and providing insightful data on the performance of businesses.
Strong problem-solving and analytical abilities.
Skilled with data visualization programs like Tableau and Power BI.
Working knowledge of SQL and Hadoop databases and massive datasets.
Excellent presenting and communication abilities.
Self-driven, meticulous, autonomous, well-organized, and proactive. Excellent communicator who is flexible and adaptive when dealing with different teams.
To learn and master new data access, manipulation, and transformation platforms, one must be driven.
Skills required
To be eligible for the role, you do need to have the below-mentioned set of skills and knowledge:
Data manipulation skills with advanced SQL and Excel
Compilation of large datasets from different sources and references
The efficiency in working on data models of different type
Practical experience with Databricks and Python programming platforms is preferred
Countale experience with Postgres, Redshift, Oracle, MySQL, and Teradata databases.
Data visualization skills with Tableau or other data visualization tools you use.
Efficiency in working with Web analytics platforms (Adobe Analytics, Google Analytics, and Amplitude)
Qualification required
We first look for the general qualifications in a candidate applying for the Data Specialist role. These are as follows:
Bachelor's or Master's degree in computer science, statistics, mathematics, or a related field
Minimum of 3 years of experience in a data analysis role
Proficient in data visualization tools. It could be Tableau, Power BI, or anything you've initially worked with on your projects or at your previous organization.
Experience working with large datasets and databases. Also, the candidate must know SQL and Hadoop.
Your day-to-day job duties as a data specialist in our organization
You will be responsible for identifying the most crucial business problems and opportunities.
Analyze complex datasets and interpret them to create data-driven strategies and extract insights.
Develop statistical models and algorithms that identify patterns and trends.
Clearly and concisely communicate your results and recommendations to stakeholders.
We ensure accuracy and dependability by updating and maintaining our data management systems.
Monitor key performance indicators (KPIs) to determine whether we accomplish our goals.
Price range
Depending on the credentials and background of the candidate, we offer a competitive compensation range of [Mention The Range You're Giving].
Who are we?
The vibrant and forward-thinking [your organization name] specializes in [enter brief company description]. We are dedicated to establishing a welcoming and encouraging work atmosphere that encourages our workers' growth and development.
What do we offer?
Because we at [Your Company Name] believe that our employees are our greatest asset, we provide a range of incentives and perks to encourage their personal and professional development.
Here are some of the benefits you can expect as a Data Specialist on our team:
Competitive salary and benefits package
Flexible work hours and remote work options
Opportunities for career growth and development
Collaborative and supportive team culture
Cutting-edge technology and tools
Employee insurance
Retirement savings plans
Health and wellness programs
Generous vacation and paid time off policies
Join us and discover many personal and professional growth opportunities at [Your Company Name].
Apply for this role:
We warmly encourage you to submit your CV and cover letter to [insert email address or application link]
If you have the skills and experience needed for the position, apply for this data science specialist job now.
We look forward to hearing from you!
Download The Data Specialist Job Description Template For Free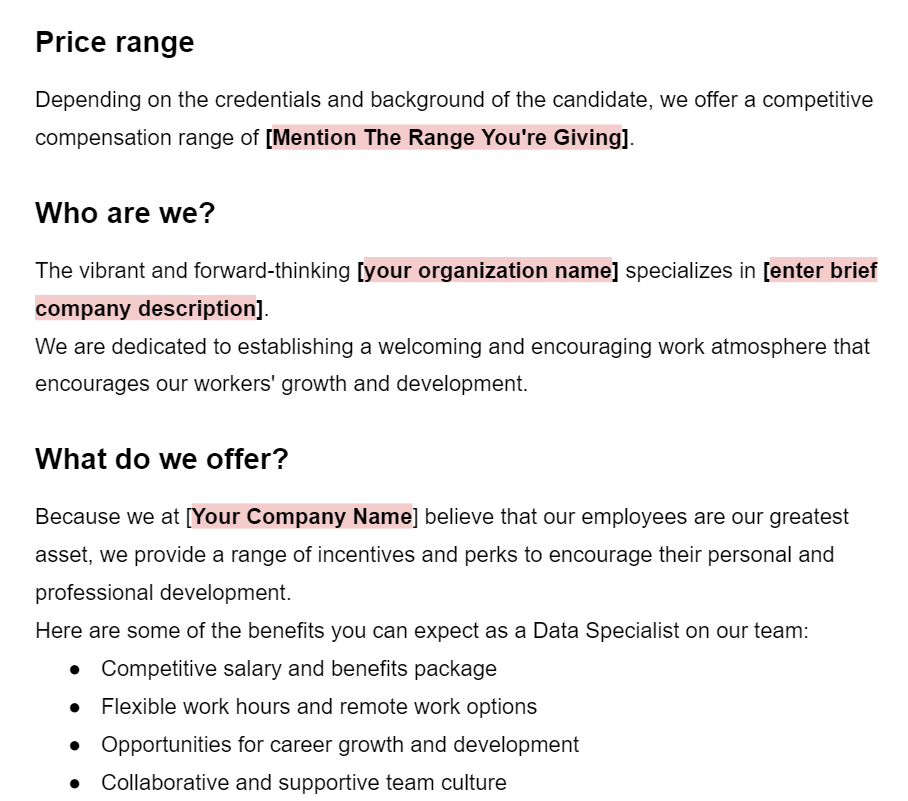 We provide the ideal answer if you're looking for a great and competent Data Specialist for your company. We've created a comprehensive job description template that you can download for free.
This template will assist you in attracting the best applicants for the position and guarantee that you discover the ideal match for your organization.
👉 Download (Google Doc) the template and customize it accordingly
Examples of data scientist job description
Here are some job description examples that you can use as inspiration.
1. Manager – Data Science – KPO by Quantified hr Pvt. Ltd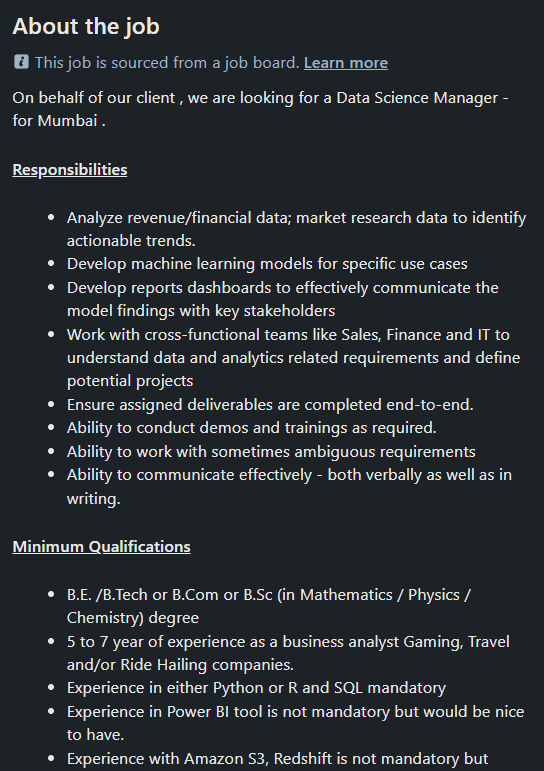 This job description for a data scientist emphasizes how the candidate will affect the organization's business objectives. The job description also clearly outlines the primary duties and qualifications that applicants must have before applying for the position, such as discovering areas for improvement and putting data-driven ideas into practice.
2. Senior data engineer – Tredence inc
This job description summary makes it very obvious what the organization is seeking. It is notable for its concise description of the candidate's primary duties, which include analyzing massive datasets and creating statistical models.
The need to remain current with data science and machine learning developments is also stressed in the description.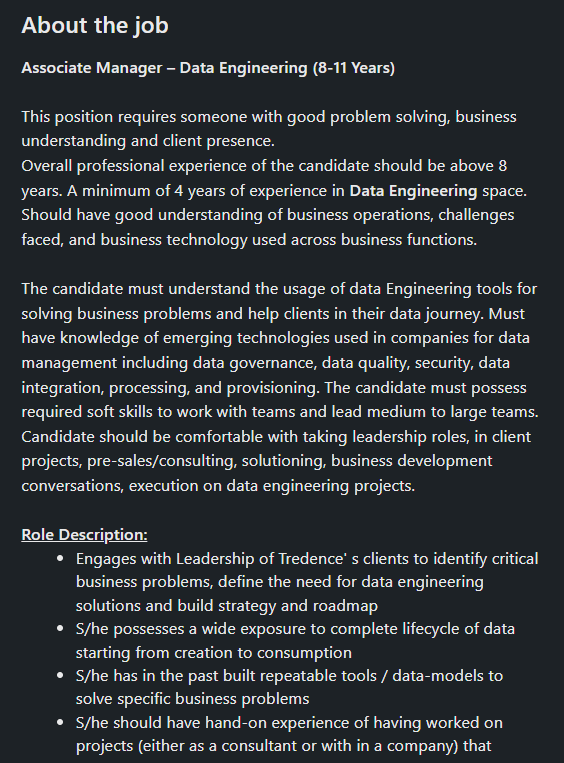 Who is a data specialist?
A data specialist gathers complex and extensive data and interprets it with the analysis that will help the business make more informed and long-term profitable decisions. Considering everything is driven by numbers and data, and so is the case with companies and organizations, data scientists can be your back to relying on.
The regular work of a data specialist starts with collecting, analyzing, and interpreting data – all of this is to identify the patterns and trends in the dataset that will help them to make future predictions. This is done using many programming languages, data mining, data visualization, and communication skills; with all of this, proficiency is taken care of with the data.
Is a data specialist a good job?
To keep the note, the demand for data specialists has grown by over 50% in the past decade! And that trend shows no signs of slowing down.
With the rise of big data and the increasing importance of data-driven decision-making, data specialists are in high demand across all industries.
In fact, according to the Bureau of Labor Statistics, employment of computer and information research scientists (which includes data specialists) is projected to grow 15% from 2019 to 2029, much faster than the average for all occupations.
Being a data specialist is like holding a golden ticket to the Willy Wonka factory in a world where data is king. Data specialists are critical in giving organizations the insightful data that may fuel their success.
How much do data specialists make?
The average annual pay for a data specialist in India is ₹7,39,734, per Glassdoor. The pay, however, might differ based on the job, region, experience, and abilities. Researching salaries for your particular area and sector is usually a smart idea.
Data specialist career path
A data specialist's professional career path often begins with an entry-level position, including a data analyst or business intelligence analyst.
One can advance to more senior positions with experience, such as data scientist or data engineer. Data specialists might assume management or leadership positions in the industry as they develop experience and skills.
Now if you want to enter the domain of data specialist, this is how you can proceed and follow the data specialist career path.
Step 1: Start with learning Data Science
You can enroll in some diploma programs or self-learn, with tutorials available. Start with learning Advanced Excel, then take steps with Python, and learn data analysis skills.
These best data science courses are a good place to begin your data science career journey.
Step 2. Work on side projects or internships
After learning, start with some real-time projects or assessments to bring your learning to practical experience.
Step 3. Get working experience
Further moving ahead, you can apply for the role of data analyst (associate) in the companies with vacancies available. Work there for 2-3 years and gain experience. You will get an average salary of Rs. 4 to 8 lakhs annually.
With an experience of at least a couple of years in the field, you can apply for the senior data analyst position (Mid-level).
This is how you can proceed in your data specialist career path, take each step individually and learn wisely.
How do I prepare for a data specialist interview?
You need to be an expert in data visualization tools like Tableau or Power BI and possess in-depth knowledge of programming languages like SQL, Python, and R to shine in a data specialist interview. Moreover, a solid understanding of statistical ideas, data structures, and algorithms is essential.
It is essential to practice with mock interview questions to improve your communication abilities and become knowledgeable about the terminology used in the sector.
Also, keeping up with emerging trends and technology is the cherry on top of demonstrating to potential employers that you are the ideal candidate for the position.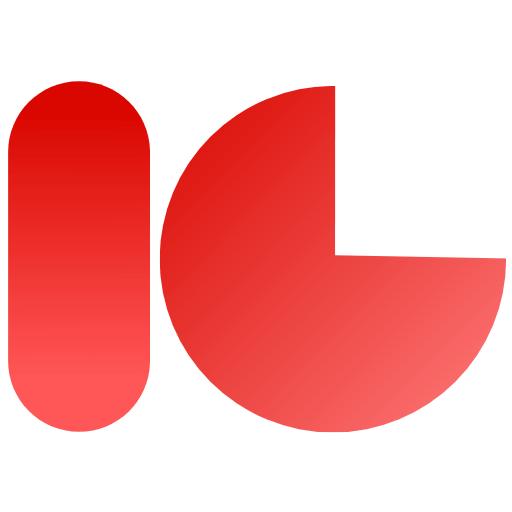 Was this content helpful?